NEW ORLEANS (NOLA WEEKEND) - As temperatures heat up, there are several water recreation options for families looking for a fun way to cool off.
Some water recreation activities in New Orleans and its surrounding areas are low-cost, or even free, while others offer a nearby day trip.
This year, some facilities have announced closures. Ormond Spray Park in Destrehan both remains closed at this time due to Hurricane Ida damage. The wave pool at Bayou Segnette Park also remains closed this summer.
But there are plenty of other spots you can slide into your summer plans.
From the North Shore to the South Shore, we rounded up some water activities to cool off, including pools, splash pads, water parks and places for tubing and kayaking on local waterways.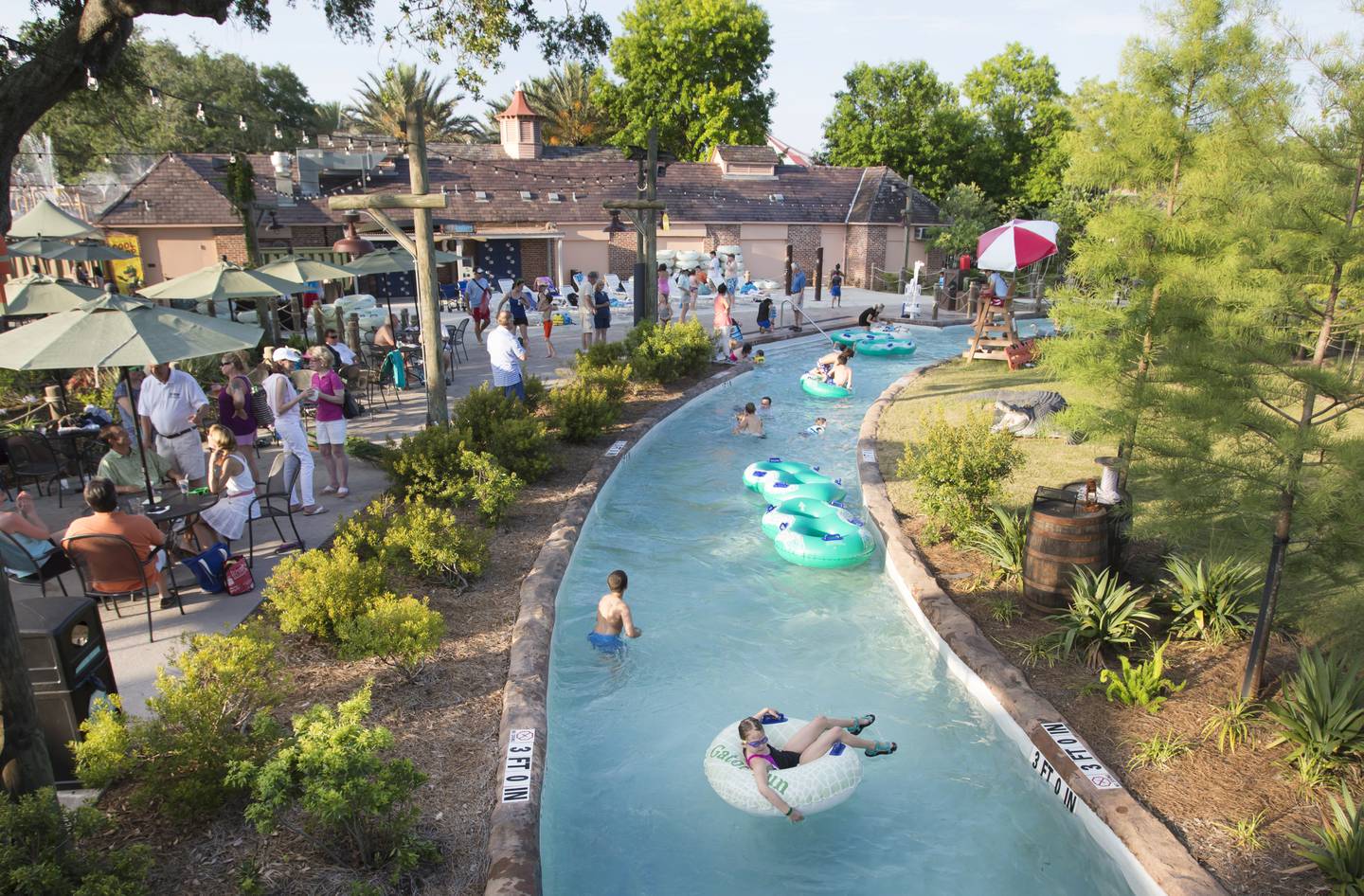 Cool Zoo at Audubon Zoo
Audubon's popular water attractions, Cool Zoo and Gator Run lazy river, return for the 2022 season. The water park features an alligator water slide, spider monkey soaker, water-spitting snakes and shady spots for grown-ups. The 750-foot-long Gator Run lazy river course features two sand beaches and water cannons.
Audubon offers two daily sessions for guests from 10 a.m. – 1 p.m. and 2 p.m. – 5 p.m. The attractions run on a weekends-only schedule through May 29. Then, Cool Zoo opens Thursday through Monday before returning to weekends only on Aug. 6. The water park closes for the 2022 season on Sept. 5.
Regular admission to Cool Zoo, including Gator Run, is $8 for Audubon Nature Institute members and $10 for non-Members, plus Audubon Zoo admission. For more details, about tickets, cabana rentals, and the 2022 season schedule, visit the website.
NORD Pools
The New Orleans Recreation and Development (NORD) Commission operates more than a dozen neighborhood pools. A number of pools are currently open for lap swimming and water aerobics, with more scheduled to open later this summer.
Several indoor pool locations are open year-round, such as Gert Town Natatorium, Joe W. Brown Par, Sanchez Multi-Service Center and Treme Recreation Community Center.
According to NORD, only five of the city's outdoor pools will open this summer due to lifeguard staffing shortages: St. Bernard Recreation Center, the Stallings Gentilly Playground, the Whitney Young Pool and the Lyons Recreation Center. The pools will open Mondays from 8 a.m. to 6 p.m. and Saturdays from 9 a.m. to 2 p.m.
Pool hours vary. Reservations for time slots can be made online through the NORD website.
Jefferson Parish Parks and Recreation Department
While the wave pool at Bayou Segnette remains closed at this time, families can take advantage of other water recreation options in Jefferson Parish.
Lafreniere Park Spray Park: The Spray Park features approximately 4,000 square feet of fun for children 10 & under. It includes 13 alternating water features (5 in-ground, 5 above-ground, & 3 water cannons) and entry is free. The carousel, near the park's center, also opened and features 30 moving horses, a tiger, a zebra, and two handicapped-accessible chariots. It costs $1 per rider. Both attractions are open from 12 p.m. to 6 p.m. on Saturdays and Sundays.
Parc des Familles Spray Park is the Westbank splash pad for children ages 10 and under. The park offers a spot to cool off during hot summer days with 16 different water features including a water ring and a fill-n-spill water tower. The splash pad opens daily from May 21 to Aug. 14 before returning to a weekends-only schedule from Aug. 20 to Sept. 11. Hours are 11 a.m. to 6 p.m.
Johnny Jacobs Pool is a 3.5-4 ft deep pool for children and adults to enjoy with YMCA-certified lifeguards on duty. This year, a new token machine accepts cash and credit cards for entry into the pool area. Daily pool fees are $2 for swimmers and $1 for spectators.
YMCA of Greater New Orleans Pools
The YMCA of Greater New Orleans has five branch locations in Belle Chasse, East Jefferson, West St. Tammany, Buras and Port Sulphur with pools available for members or guests of members.
The YMCA's summer membership rates vary per location. For more information, visit the YMCA of Greater New Orleans website.
Fontainebleau State Park Splash Pad
If you're looking for some water fun on the North Shore, get soaked in Mandeville at the water playground inside Fontainebleau State Park. Admission is only $3 per person, which includes access to the entire park grounds. Hours are Tuesday to Sunday from 8:30 a.m. to 6:30 p.m.
Splash Pad at the Mandeville Lakefront
Another spot to cool off on the Northshore: the splash pad at the Mandeville Lakefront. This interactive water feature is adjacent to a playground, sandy beach and other nearby outdoor activities. The splash pad is open May to October, 10 a.m. to 9 p.m.
Buccaneer Bay Water Park
Families can take a day trip to this 4.5-acre water park located in Waveland, Mississippi, just outside Bay St. Louis. Parents can relax on the 10,000 square-foot sun deck while the kids have fun on the water playground and other attractions, such as Pirate's Plunge waterslide and Pirate's Lagoon Wave Pool.
Buccaneer Bay opens daily from May 28 through Aug. 1 from 10 a.m. to 6 p.m. Regular admission fees range from $13 to $19. The park also offers group fees and season passes. For more information, visit the website.
Gulf Islands Water Park
Located in Gulfport, Mississippi, Gulf Islands Water Park features several attractions named for landmarks within Southern Mississippi and the Gulf Islands National Seashore. Make a splash on thrilling water rides such as Riptide Racer, Horn Island Blaster and Deer Island Express.
Gulf Islands Water Park opens for the 2022 season starting on May 21. Ticket prices for the water park vary. Season passes are also available. For more information, visit the website.
Tubing
The North Shore is home to a few places you can go tubing, with most in the heart of Washington Parish along the Bogue Chitto River. Adventure-seekers can take a scenic float trip on Louisiana's rivers.
Tubing operators provide access points for floating, such as Louisiana River Adventures in Franklinton, Bogue Chitto Tubing Center in Bogalusa and Tubing in the Park at Bogue Chitto State Park in Franklinton.
Kayaking and paddleboarding
For some adventure seekers, a dip in the pool sometimes just doesn't cut it. The abundance of waterways around New Orleans and its surrounding areas offer many creative ways to cool off.
Near New Orleans, Bayou St. John and New Orleans City Park are popular spots for recreation. Companies like Bayou Paddlesports offer kayak rentals, while NOLA Paddleboards will get you paddling down Bayou St. John on a stand-up paddleboard.
On the North Shore, one popular rental service helps families get paddling on the Bogue Falaya River in St. Tammany Parish. Canoe and Trail Adventures operates on the dock outside of The Chimes Covington.
Are there any other nearby splash pads, public pools or water parks great for families this summer, let us know about them here.
Copyright 2022 WVUE. All rights reserved.