NEW ORLEANS (NOLA WEEKEND) - The inaugural Lower Nine Fest aims to celebrate the historic neighborhood's culture with a day of music, food trucks and fun at Oliver Bush Playground on Aug. 27.
Organizers say they also hope to connect community members with needed resources at the upcoming festival. Along with the fun, the fest will also host a community resource fair with more than 20 organizations including Urban Conservancy, Metropolitan Human Services District and the Leona Tate Foundation.
The first-time festival, organized by the Lower 9th Ward Homeownership Association (L9WHA), was originally slated to take place last year before Hurricane Ida derailed planning for the event, organizers said.
"The event stemmed from the need to create awareness about available community resources," Gaynell Brady with the L9WHA said in a release. "We are beyond excited to be able to bring this experience to the city and the residents of our community."
Local food truck vendors will feature a taste of New Orleans. Vendors include The Cooking Therapist, Beaucoup Eats, Paddy Daddy, Funkee Foodz, Danielle's New Orleans Sno Balls and others.
The Lower Nine Fest will also feature musical performances and appearances by Kermit Ruffins, Tonya Boyd Cannon, Tekrema Center for Arts and Culture, Da Truth Brass Band, the Dr. M.L.K. High School Band, and DJ PJ. The event will kick off with a second line with the Zulu Social Aid & Pleasure Club 2022 King and Queen, Stooges Brass Band and community leaders.
"The Lower 9th Ward is known as a strong community, self-sufficient, with a history of perseverance. In the past, every service you needed could be found in the community, and residents of the community depended on each other for access to resources. I love the Lower 9 because this history is embedded into the fabric of the community," Brady said.
Organizers also unveiled an official festival poster during a festival announcement press conference last week. Visual artist, muralist, photographer and Lower Ninth Ward resident Alina T. Allen is the 2022 Lower 9 Fest artist.
Allen says her work captures "the spirit of the Ninth Ward." Imagery includes a heavenly second line with Mother Catherine Seals leading into Fats Domino and iconic neighborhood landmarks.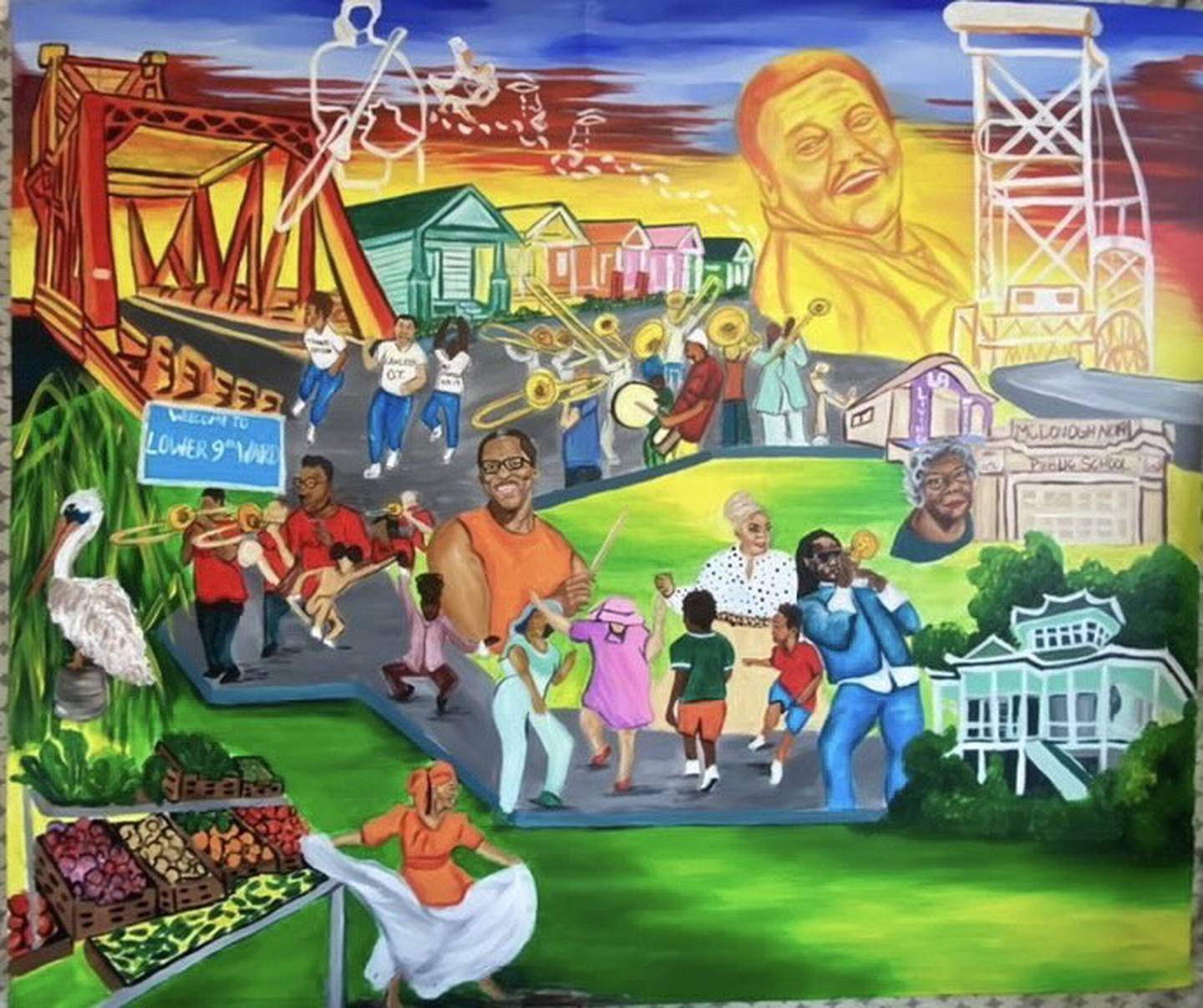 "Being a black woman, I believe it is imperative that I paint black people! My inspirations derive from stories of my ancestors and I interpret it in a beautiful light. Born and raised in New Orleans, I love the fact that we celebrate the entire African-Diaspora in some way. Since my childhood I have been exposed to and participated in different religions, rituals, and festivals that celebrate African, Indian, French, Haitian, Brazilian, Mexican black culture in New Orleans," Allen said in a release.
The festival runs from noon to 4 p.m., and the event is free and open to the public.
Oliver Bush Playground is located at 2500 Fats Domino Avenue in New Orleans.
Copyright 2022 WVUE. All rights reserved.