NEW ORLEANS (NOLA WEEKEND) - After two years as a drive-through parade, the Krewe of Krampus announced plans to bring their creepy spectacle back to the streets as a walking parade in the Bywater on Dec. 3.
With the return of Krampus NOLAuf, organizers aim to produce New Orleans' first inclusive and accessible parade.
Krewe co-founder and creative director Michael Esordi said after pivoting to COVID-safe parades with their innovative drive-through format during the pandemic, he realized how traditional parades fail to address certain needs.
"When we did our first drive-through parade we received so many messages from attendees thanking us for offering this type of event. So many people said they had someone in their family with limited mobility or they had a child with autism that couldn't be in loud crowds and that our drive-through format made it possible for the whole family to enjoy a parade," Esordi said in a release. "As a community-focused Krewe it would be remiss of us to ignore this need once we realized it existed."
Esordi said the krewe will make special provisions to help address those concerns. The parade route will feature areas for people with limited mobility, audio descriptions of the parade, an American Sign Language interpreter and a "Quiet Zone" for children with sensory processing needs.
Organizers say the "Quiet Zone" will offer a quieted version of the parade as passes with more space for attendees. Parents can also download an accompanying social story to read with their children to help younger parade-goers know what to expect before the parade.
The goal is to "create a welcoming environment for more people to enjoy a parade," Diana Esordi, co-founder and the krewe's director of safety and compliance, said in a release.
The route starts on Royal Street at Mazant Street, turns right on Independence Street -- the parade's "accessibility row" -- turns left on Burgundy Street, left on Clouet Street, left on Dauphine Street and ends at Royal Street and Piety Street, near Bratz Y'all.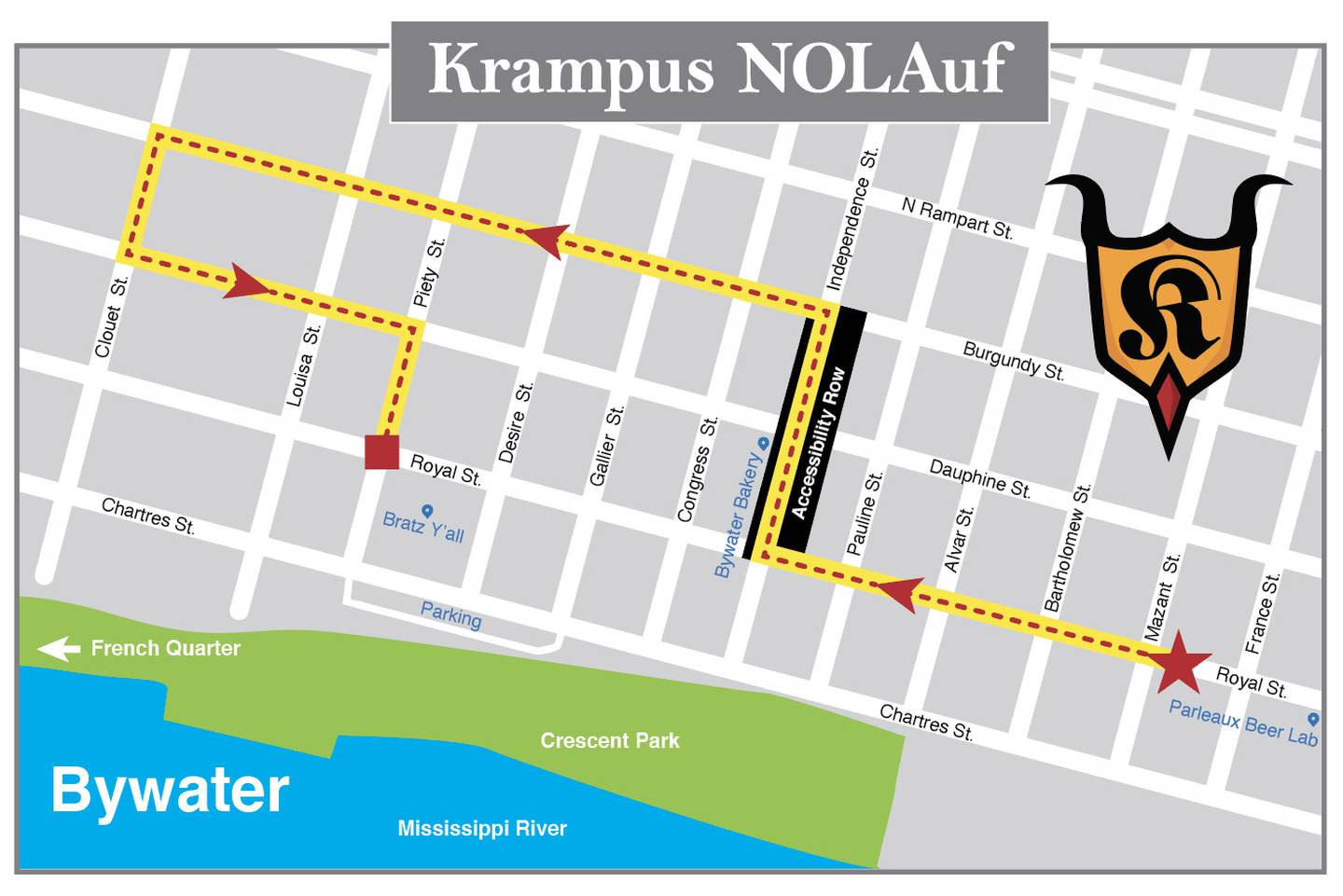 The unique annual holiday parade, known as Krampus NOLAuf, is based on an ancient Alpine tradition called Krampusnacht. According to Germanic folklore, Krampus is Saint Nicholas' counterpart, who has the role of punishing children on Saint Nick's naughty list.
Organizers boast this year is "poised to be even bigger than ever." The krewe says they're welcoming visitors and performers from all over the country and abroad in addition to local crowds.
Onlookers can watch several themed groups of interesting characters stroll during the parade. Parade-goers can expect plenty of unique throws including bells, ornaments, Krampus cups and the coveted lumps of coal. The parade is scheduled to start at 7 p.m.
For more information about the Krewe of Krampus parade, visit the website.
Copyright 2022 WVUE. All rights reserved.