NEW ORLEANS (NOLA WEEKEND) - Jefferson Parish officials say they're ready to roll this Carnival. Officials announced the latest plans for 2023 parades, including the schedule, routes and royalty.
This year, parades start rolling in Jefferson Parish with the Krewe of Little Rascals on Feb. 5.
One major change for Metairie parades happens on Fat Tuesday. The Krewe of Argus will roll later this year, starting its parade at noon on Mardi Gras instead of its usual 10 a.m. time slot. This year marks the 50th anniversary of Argus, and the krewe requested a later start time. Elks and Jefferson will both follow Argus.
Family Gras, the popular Carnival celebration and concert series in Metairie, is set for Feb. 10 and Feb. 11, one day less than in previous years. Organizers say the entertainment lineup will be announced in coming weeks. The krewes scheduled to roll during Family Gras weekend include Excalibur, Symphony and the Madhatters.
The Krewe of Madhatters announced some popular names as part of this year's royalty including singer Faith Becnel riding as Alice, singer Vince Vance as the Madhatter and Lt. Gov. Billy Nungesser named as Grand Marshal.
See the 2023 Jefferson Parish parade schedule below: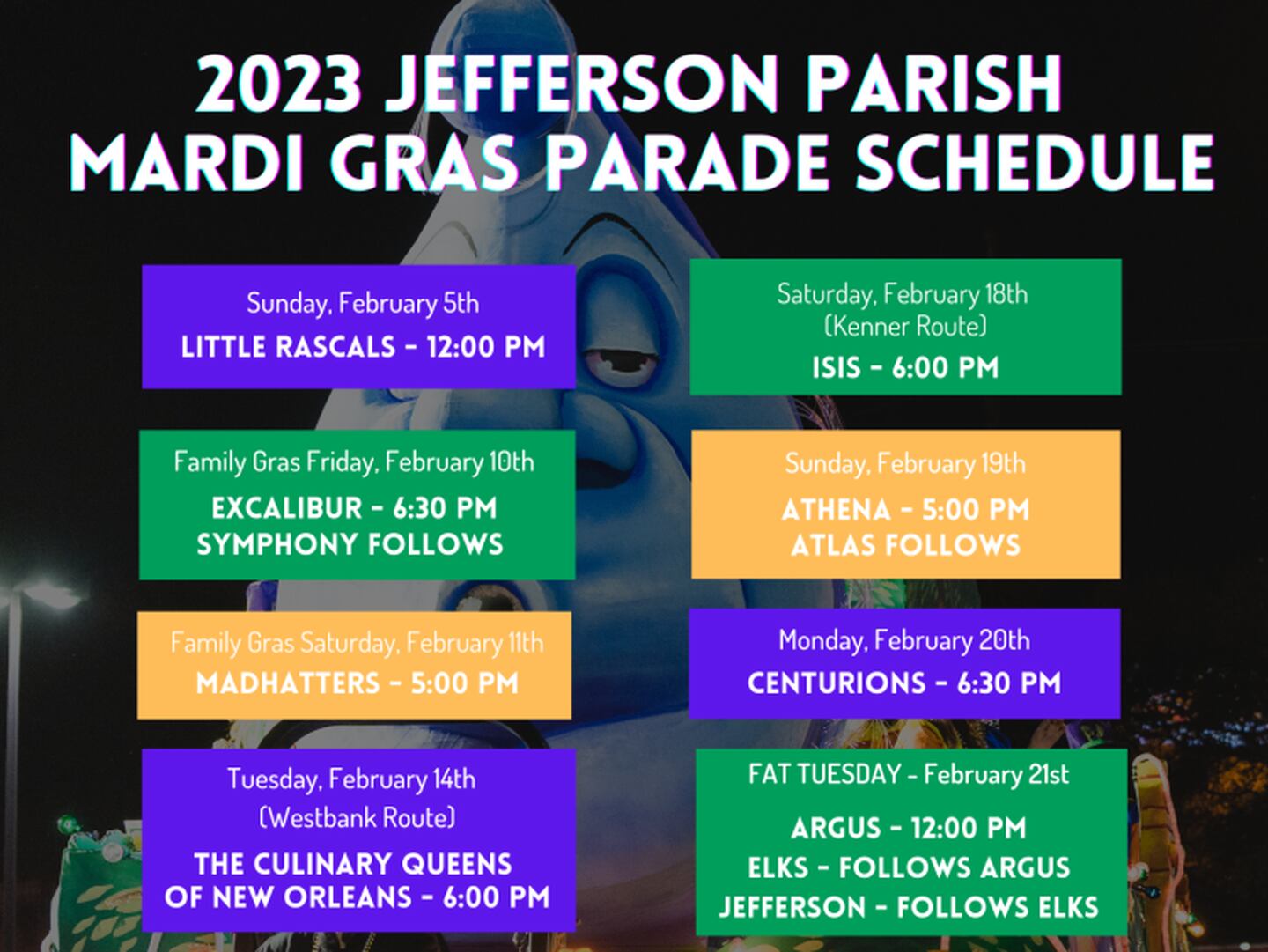 ---
Sunday, Feb. 5, 2023: Little Rascals at noon
Krewe of Little Rascals Captains Jack and Maureen Spittler; Queen XXXVIII Miss Anabella Rose (Bella) Stephens; King XXXVIII Master Jack Gayle (Tres) Spittler, III
Friday, Feb. 10, 2023: Excalibur at 6:30 p.m. Symphony to follow.
Krewe of Excalibur Captain Melissa Hildreth; Queen Excalibur XXI Hasahnee Jackson; King Excalibur XXI Jason Tullos
Krewe of Symphony Captain Laron Q. Nelson; Queen Symphony VI Christina Monique George; King Symphony VI Carl Alondo Johnson, Jr.
Saturday, Feb. 11, 2023: Madhatters at 5:00 p.m.
Krewe of Madhatters Captains Joseph and Gwen Lacoste; Faith Becnel – Alice; Vince Vance – Madhatter; The Honorable Billy Nungesser – Grand Marshal
Tuesday, Feb. 14, 2023: Culinary Queens of New Orleans at 6:00 p.m.
Royalty will be officially announced at the next West Bank Council Meeting, scheduled to take place on Wednesday, January 18, 2023.
Sunday, Feb. 19, 2023: Athena at 5:00 p.m. Atlas to follow.
Krewe of Athena Captain Taisha Williams-Payne; Queen Athena VIII Marcia Prosper Darby; King of Athena VIII Armand F. Richard
Monday, Feb. 20, 2023: Centurions at 6:30 p.m.
Krewe of Centurions Captain Norman R. Bourgeois, Jr.; Queen Centurion XLIII Lily Isabella Bourgeois; King Centurion XLIII Matthew Gary Erskin
Tuesday, Feb. 21, 2023: Argus at noon* Elks and Jefferson Trucks to follow.
Krewe of Argus Captain Robert DeViney; Queen Argus XXXVIII Allison Langhetee; King Argus XXXVIII Steven La Chute
* Argus is rolling later this year (it started at 10:00 a.m. last year)
To view the 2023 parade routes, or for more information about each krewe, visit www.JeffParish.net/MardiGras or call the Citizens Affairs department at 504-736-6101.
To receive parade updates and alerts regarding parade routes, weather, entertainment and more, text JPMARDIGRAS to 888-777. For more information about Jefferson Parish, visit www.JeffParish.net. Residents can also receive regular updates by following the Parish on Facebook, Twitter and Instagram (@JeffParishGov).
Copyright 2023 WVUE. All rights reserved.