NEW ORLEANS (NOLA WEEKEND) - With so many king cake options, king cake pop-ups are rising in New Orleans as a way to bring several varieties to one central location.
For the first time, the Southern Food and Beverage Museum hosts a relatively new Carnival pop-up called King Cake Connection. The seasonal marketplace features a collection of king cakes, Carnival-inspired treats and Mardi Gras merchandise from local Black-owned businesses.
King Cake Connection founder Jalence Isles first launched the pop-up mid-Carnival season last year. This year, the marketplace returns for its first full Carnival season.
Isles, who also created the Where Black NOLA Eats Facebook group in 2019, said she wanted to see more minority-owned king cake businesses get a bigger slice of exposure during Carnival. Isles said she was inspired by King Cake Hub, the one-stop king cake retailer launched in 2018 by New Orleans entrepreneur Will Samuels, who died of cancer in 2021.
"Carnival is big business in New Orleans," Isles said. "After starting Where Black NOLA Eats and learning of how severely disproportionately income is distributed between minority-owned businesses and white-owned businesses in the City of New Orleans, and a visit to King Cake Hub whose concept I really love, I saw the missed opportunity for Black business owners and another example of why income is so severely disproportionate."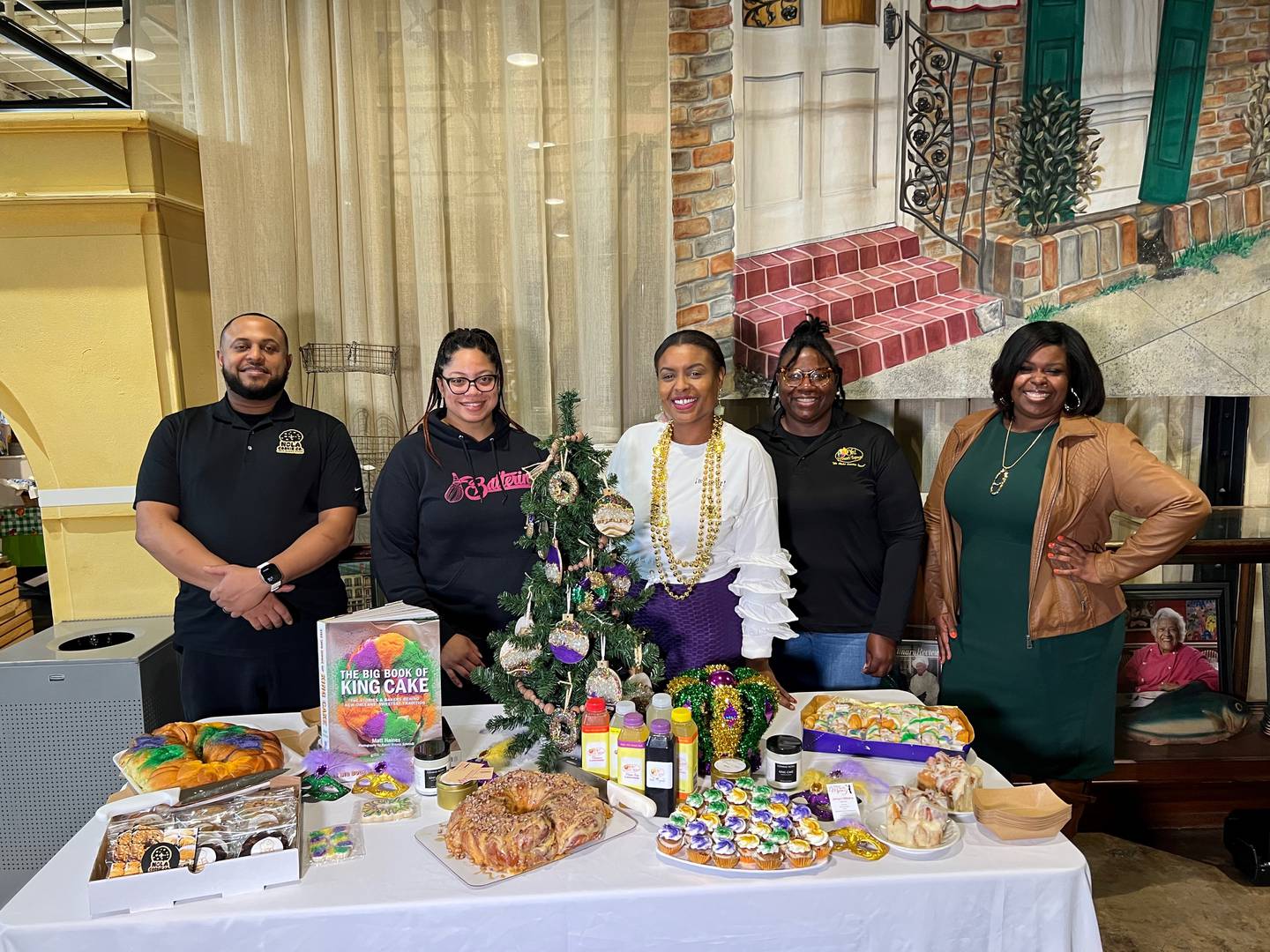 Similar to King Cake Hub, king cake lovers can find a variety of king cakes at this hub for Black-owned bakers. Some offerings include traditional cakes from longtime Gentilly bakery Adrian's Bakery and sweet potato cream cheese king cakes from pastry chef Rena Ray's business S.S. Sweets.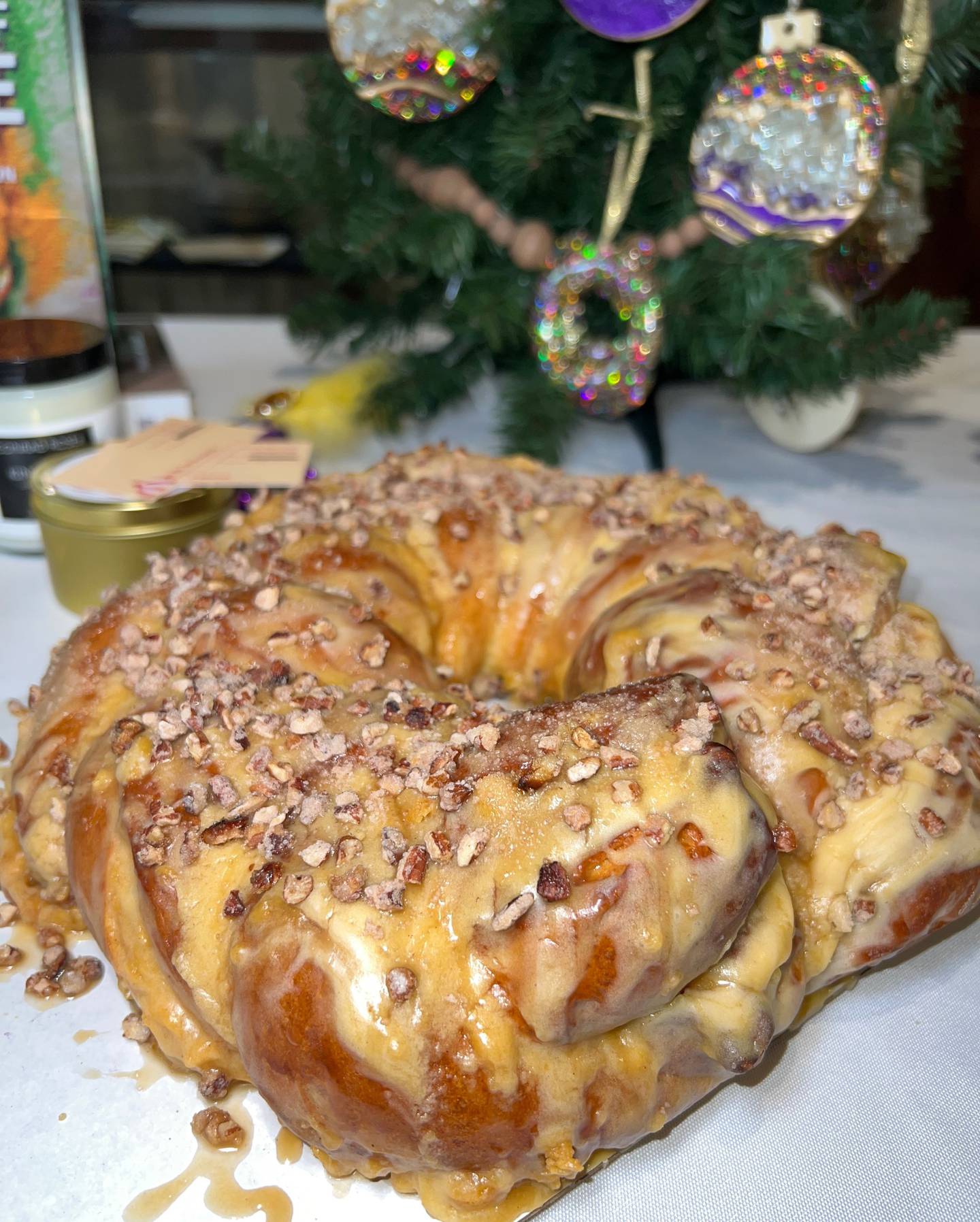 King Cake Connection also offers king cake-inspired treats like cookie butter king cake cheesecake from baker JoAnna Euraque, known as The Batterina on Instagram.
Euraque said the new hub has helped expose her offerings to a new audience of customers, especially with its proximity to downtown.
"With the king cake connection being a central location, it gives tourists, as well as locals, an opportunity to support all of the participating local businesses in one location," Euraque said.
Other Carnival items are up for grabs at the location, including Mardi Gras lemonade, king cake candles and Mardi Gras ornaments.
"I like the hub idea because it can be a one-stop shop for all of the people on a hunt to try the many versions of king cake and other Mardi Gras-themed items that become available during Carnival in New Orleans," Isles said.
The King Cake Connection is located inside the Southern Food and Beverage Museum at 1504 Oretha Castle Haley Blvd. in New Orleans. Hours of operation are 11 a.m. to 5 p.m. Thursday through Sunday.
Here's the complete list of offerings from King Cake Connection:
King Cakes:
— Plain (Traditional), Cream Cheese Filled, and Praline king cakes and king cake slices from Adrian's Bakery
— S.S. Sweets' (Chef Rena Ray)'s sweet potato cream cheese and cinnamon brown sugar cream cheese king cakes
— Traditional, cream cheese filled, & Bavarian from Mr. B's Bakery (Algiers) (slices + whole cakes)
— King cakes bites from SweeTee's Suga Shak
Other Items:
— Dine With Myra J's signature white chocolate bread pudding
— The Batter-ina's King cake cheesecake
— Oh, Sweet Lemon's Mardi Gras Lemonade
— Mynnye's Chocolates chocolate covered popcorn
— Y'alls Cookies Mardi Gras themed sugar cookies
— NOLA Cookie Co.'s Fat Tuesday Cookies
— SweeTee's Suga Shak's Rumtinis
— Conrad Rose's King Cake Candles
— DomChanel's Mardi Gras and king cake ornaments
Copyright 2023 WVUE. All rights reserved.