NEW ORLEANS (NOLA WEEKEND) - Organizers for the Mid-City Bayou Boogaloo announced the daily music lineup for the 2023 festival taking place on the banks of Bayou St. John from May 19 to May 21.
Organizers unveiled the complete music lineup and the first-ever comedy acts scheduled to perform as part of a new stage devoted exclusively to comedy programming this year.
In January, the festival announced the headlining acts including rapper and Cash Money Records alum Juvenile, whom Partners N Crime and DJ Jubilee will join. Other headliners include The Yonder Mountain String Band, Boyfriend, Reverend Horton Heat and The Iceman Special.
Currently, early-bird three-day passes are available for $25 through March 6, when the price will increase to $35. This is a general admission weekend pass with in and out privileges.
Additionally, single-day tickets will go on sale for $15 on March 6. One single-day ticket provides admission on any of the three days.
See the complete daily music and comedy lineups below:
Friday, May 19
Yonder Mountain String Band, Boyfriend, Bonerama, People Museum, The Quickening
Comedy acts include Wait, What?: A Comedy Drinking Game feat. Isaac Kozell & Geoffrey Gauchet.
Saturday, May 20
Juvenile (with Partners N Crime, DJ Jubilee and the Big Easy Bounce Band), The Iceman Special, Hot 8 Brass Band, The Rumble, The Low End Theory Players, LeTrainiump, Tasche & the Psychedelic Roaches, Dinny Skip
Comedy acts include Rude Jude, Mark Caesar, and Kymbra Li
Sunday, May 21
Reverend Horton Heat, Rebirth Brass Band, Eddie 9V, Johnny Sansone Band, Marcella Simien, Bon Bon Vivant, Them Ol' Ghosts, NOLA School of Rock
Comedy acts include Sean Patton, Vincent Zambon, and Ukulele Jokes with JQ Palms & Thomas Jones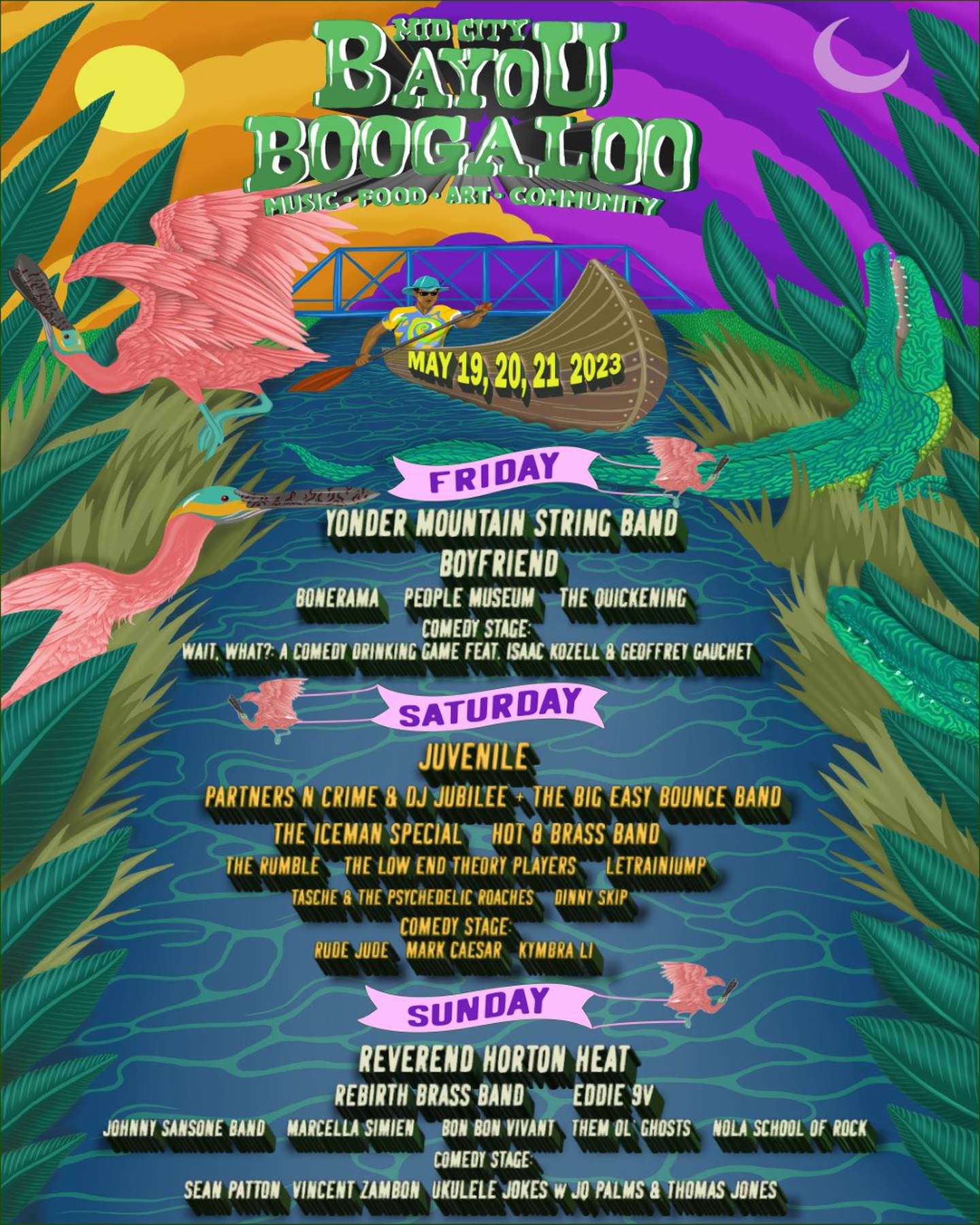 In addition to music on two stages and a comedy stage, Mid-City Bayou Boogaloo boasts a curated arts market, a kid's tent and crafts area, a VIP Canopy Club, and food from over 20 local vendors. There will also be a silent disco powered by local production company Dohm Collective on Friday and Saturday nights after headlining artists have performed. The festival is also known for its paddling and yoga activities.
Additionally, on March 6th, single-day tickets will go on sale for $15.00. One single-day ticket provides admission on any of the three days.
Canopy Club weekend passes are also available now for $199.00 and grant re-entry plus access to the Canopy Club VIP area, a shaded oasis next to the stage with comfy seating, front stage access, an elevated viewing deck, private restrooms, and a selection of complimentary beverages and local fare.
Festival-goers who look forward to boating and floating on Boogaloo days will enjoy an enhanced boating experience this year that includes separate entrance gates for all water vessels, plus the addition of the Moss Street Marina.
Every festival attendee on the water will need a regular-priced ticket to the festival for entry, which includes a $2 environmental fee that goes to preserving and protecting Bayou St. John, organizers say. Anyone or group who desires to put a homemade barge in the water will be required to leave a $100 deposit, which will be refunded upon the user's removal of the barge. All registered barges will be automatically entered into a barge-building contest, the winner of which will receive a prize package from local businesses.
For more information or to purchase tickets, visit the website, thebayouboogaloo.com/tickets/.
Copyright 2023 WVUE. All rights reserved.