NEW ORLEANS (NOLA WEEKEND) - Seafood season is upon us, which means many people are looking for their seafood fix. NOLA Steak at Boomtown Casino on the West Bank in Harvey is one restaurant serving up some delicious seafood dishes on the menu.
Executive chef Louis Brown II shares the recipe and tips for making one of his favorite fish dishes: Blackened Redfish. The Blackened Redfish is served over a bed of mashed garlic red potatoes, comes with a side of corn maque choux and topped with a grilled lemon.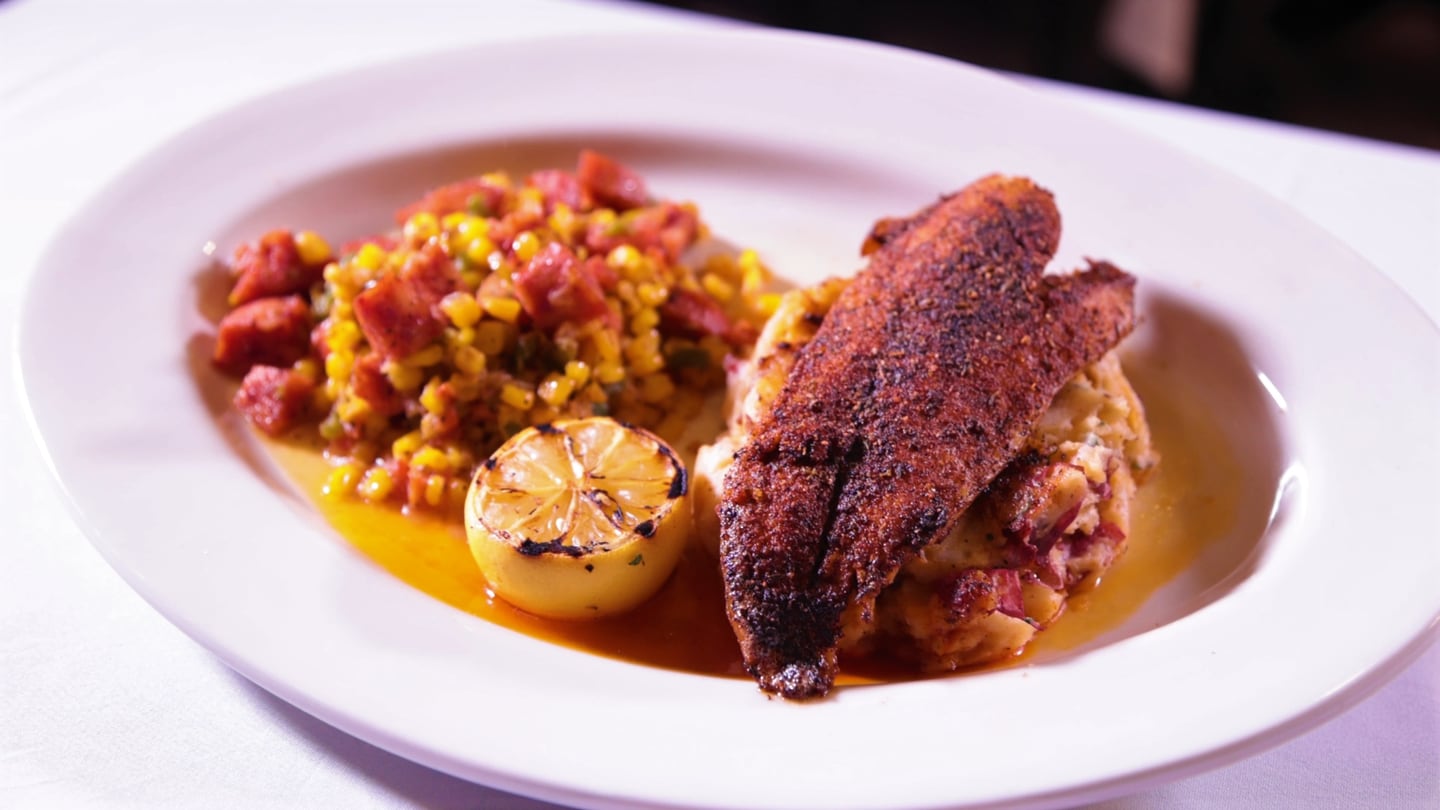 Along with a menu full of delicious dishes, NOLA Steak at Boomtown Casino is launching a schedule of live music. The restaurant also offers Sunday brunch and happy hour specials that include half-priced appetizers and drink specials.
Hours of operation are Thursday through Saturday from 5 p.m. to 9:30 p.m. and Sunday brunch from 10 a.m. to 4 p.m.
To see the full menu or to make a reservation, visit the website.
Blackened Redfish with Corn Maque Choux, Garlic Red Potatoes
Redfish
7-9oz Redfish Fillet
½ Tablespoon Blackened Seasoning
½ Cup Butter
Melt butter in a cast iron skillet. Place ¼ tablespoon of blackened seasoning on each side of the fish. Place fish in skillet and sauté for two minutes on each side. Place on a plate to let drain.
Maque Choux
1/2lb Chopped Smoked Sausage
2oz Yellow Onion
2oz Diced Celery
2oz Diced Green Bell Pepper
2oz Diced Red Bell Pepper
¼ Cup Creole Seasoning
1 Teaspoon Granulated Garlic
1 Teaspoon Granulated Onion
½ Cup Diced Tomatoes
1 Teaspoon Seafood Base or Stock
1 Cup Whole Kernal Corn
8oz Water
1 Bay Leaf
1 Teaspoon Kosher Salt
Combine all ingredients and cook until all are incorporated.
Garlic Red Potatoes
2lbs B Red Potatoes Boiled
8oz Salted Butter
1 Tablespoon Liquid Crab Boil
1 Tablespoon Granulated Garlic
½ Tablespoon Kosher Salt
Combine all ingredients and use a masher to mash them all together. Be careful not to over-mash the potatoes.
Created in partnership with Nola Steak at Boomtown Casino
Copyright 2023 WVUE. All rights reserved.