HARVEY, La. (NOLA WEEKEND) - Creole cuisine is a staple here in south Louisiana. At NOLA Steak at Boomtown Casino, you'll find a fusion of Creole creations and the modern steakhouse.
If you're in the mood for seafood, this dish offers a variety with a spicy seafood cream sauce, shrimp and crab.
Executive chef Louis Brown II whips up a taste of his Eggplant Napoleon, and it's the perfect marriage of Creole seafood flavors.
Ingredients
8 oz. all-purpose flour
.5 oz. liquid margarine
16 oz. oregano (Minced)
6 oz. diced onions
6 oz. diced celery
6 oz. minced garlic
8 oz. grated parmesan cheese
2 tbsp. veggie seasoning
4 oz. seafood base
4 oz. white wine
4 cups heavy cream
1 tbsp. Cayenne Pepper
Directions
Batter 3 ¼ inch eggplant slices (peeled) in flour, egg wash and breadcrumbs. Fry for two minutes.
In liquid butter, add onion, celery, minced garlic, bell pepper and herbs. Sauté until translucent. Add heavy cream, seafood base and white wine. The, bring to a simmer.
Add parmesean cheese and cayenne pepper. Keep starting until all incorporated.
Turn to medium heat and let simmer until sauce is smooth. Cool down and saute, shrimp, tomatoes and holy trinity. Add sauce, and bring to simmer. Then, finish with crabmeat.
Pour sauce on top of eggplant.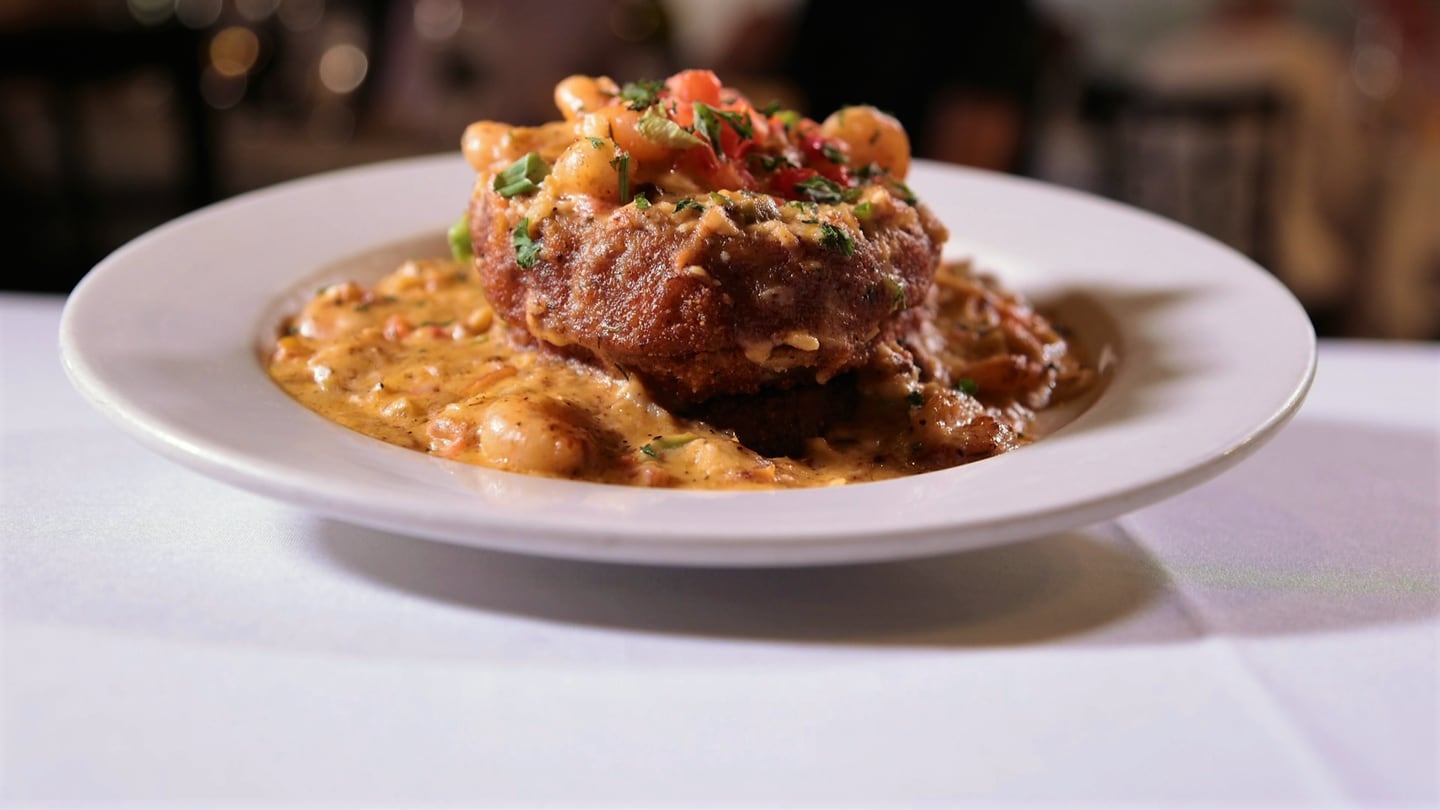 Along with a menu full of delicious dishes, NOLA Steak at Boomtown Casino in Harvey is launching a schedule of live music. The restaurant also offers Sunday brunch and happy hour specials that include half-priced appetizers and drink specials.
Hours of operation are Thursday through Saturday from 5 p.m. to 9:30 p.m. and Sunday brunch from 10 a.m. to 4 p.m.
To see the full menu or to make a reservation, visit the website.
Created in partnership with Nola Steak at Boomtown Casino
Copyright 2023 WVUE. All rights reserved.