NEW ORLEANS (WVUE) - It was recently announced that country and pop music legend Garth Brooks will be the headliner for the first-ever Sugar Bowl Country Kickoff music event and he "stopped by" the Fox 8 Morning Edition to talk about it and look back at how Louisiana has supported his career.
The event, which will be held on Saturday, Sept. 2 at the Caesar's Superdome, is a new music festival that marks the start of the college football season. He'll co-headline the event with country vets Nitty Gritty Dirt Band and rising star Lainey Wilson, a native of Baskin, Louisiana.
For Brooks, who has a long career of playing in front of sold-out stadiums, it's a chance to add another storied venue to his resume and play in a state that's shown him significant support throughout his career.
On Thursday (July 20) Brooks was a guest via Zoom on the Fox 8 Morning Edition and he spoke with anchor Kelsey Davis about touring, college football, and his love for Louisiana. He also compared the chance to play the Superdome to other iconic venues like Central Park and Yankee Stadium that he's sold out in the past.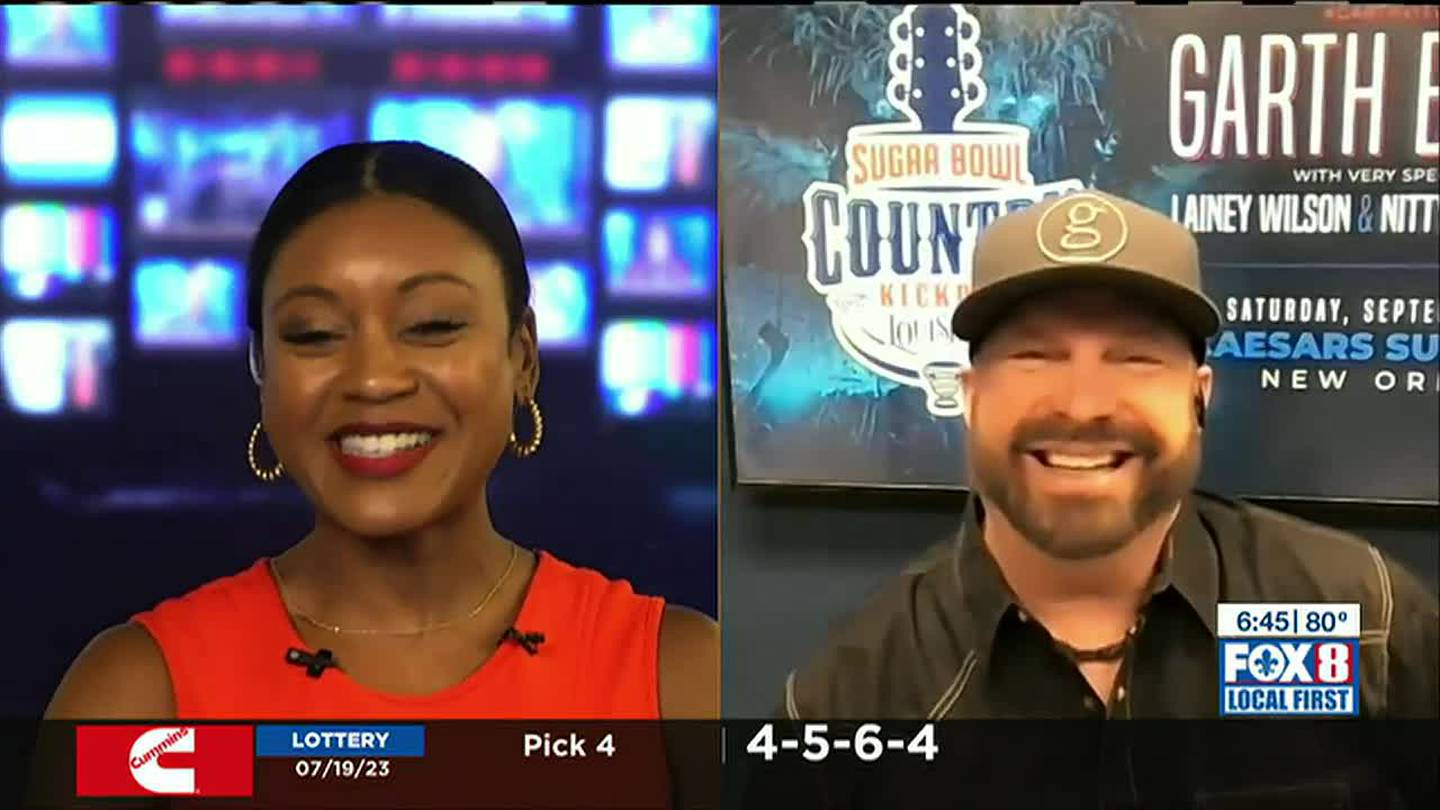 "This will be a great thing to put into your career bonnet," Brooks said. "(To say) I just got to play the Superdome."
In the interview, Davis asked Brooks, a native of Stillwater, Oklahoma, about his connection to the "Boot State", noting his most recent show at Tiger Stadium inspired a crowd response so loud that it registered as an earthquake on the Seismic graphic during "Calling Baton Rouge".
"Well, let's start with Bear Creek Steakhouse (Montpelier, Louisiana) before you were born," Brooks said. "Playing there when there were 12, 16 people that showed up...they rocked that place. It doesn't have anything to do with Garth Brooks but everything to do with the people of Louisiana."
So when the invitation came his way to do the Sugar Bowl kickoff, Brooks said he jumped at the chance.
The event also pairs his love of music with college football. Brooks has shown a love for sports over the years, a former high school football and baseball player. He also competed in track & field as a javelin thrower at Oklahoma State. So it's not surprising that Brooks is a big supporter of Cowboys football.
"It's especially exciting considering that my alma mater is Oklahoma State and this is their year," Brooks said.
Wait a minute, Garth. Your LSU fans expecting big things from the Tigers might have something to say about that.
READ MORE Brian Kelly looking to continue Year 2 coaching success at LSU
No matter his ties to the Sooner State, Brooks always sees playing in Louisiana as an important opportunity.
"No matter what happens now and then and whatever...thank you," said Brooks. "Thank you for my life and with every trip in your great state, something amazing happens to me."
Tickets for the Sugar Bow Country Kickoff go on sale Friday (July 21) and can be found here.
See a spelling or grammar error in our story? Click Here to report it. Please include the headline.
Subscribe to the Fox 8 YouTube channel.
Copyright 2023 WVUE. All rights reserved.